Well, I had all of two folks enter to win the traveling stash, and random number generator thinger picked #2, so I'll be contacting Kim in just a moment for her address! Hooray, Kim!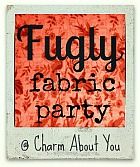 In other news - have you heard of the Fugly Fabric Party? No? WHY NOT!? It's pretty awesome. I'll be offering up some fugly fabric here on the 8th of May, and this time, you'll have the chance not only to win a fugly from me but also some definitely NOT fugly fabric from the link party's sponsor,
Prints to Polka Dots
! Stop by Lucy's blog at
Charm About You
for more details - then go dig through your stash to find stuff to swap! :)
Have a fantastic weekend!